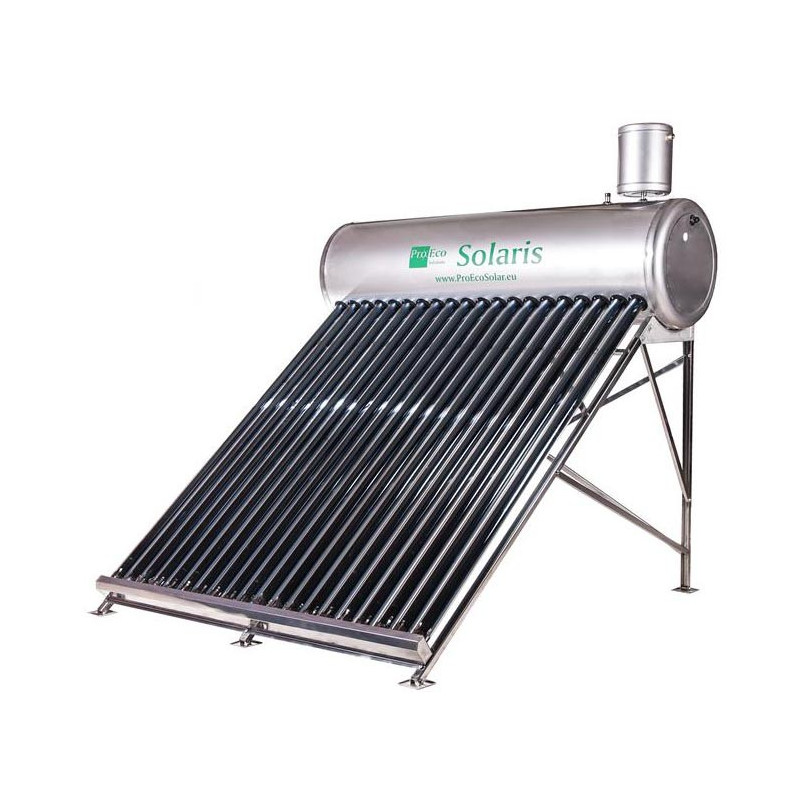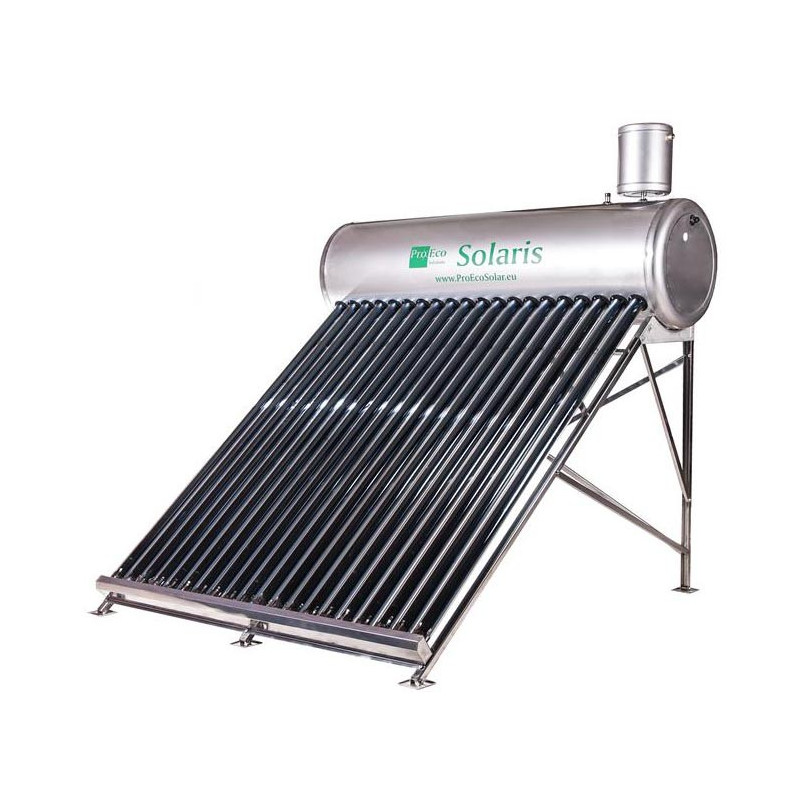 Water Heater PROECO SOLARIS L-190 Econo
PROECO SOLARIS L190E
EAN-13: 5902734701664
Compact Non-pressure Water Heater PROECO Solaris L-190 Econo 
- Solar collector consisting of 20 vacuum tubes
- Insulated water tank with a capacity of 167 liters (219 liters the entire system).
- Stainless steel frame SUS 201
 
2.276,42 tax excl.
Possible delivery within 10 days

 Non-pressure compact water heater PROECO Solaris L-190 Econo
The device meets the needs for hot water after the heating season (March - October) of 3-5 persons. The device uses free solar energy. It is an alternative solution for costly and extensive traditional solar systems. The simple design of the device allows for self-installation without losing the warranty. The reliability of solar water heaters and their very low operating costs guarantee the comfort of use and allow for a quick return of invested money. 

Hygienic Certificate.pdf

 Advantages:
- Low purchase price of the device. Very fast return on investment.
- Lower cost of obtaining hot water in comparison to pressure and flow-through models with a coil.
- Very simple design of the device.
- Reliability of operation.
- Hot water flows out under the influence of gravity.
- No pressure in the hot water tank. No pressure safety valves are required.
- Possibility of using the entire hot water tank without cooling it by cold water flowing in at the same time. 
- Low weight of the device. Possibility of moving it to another place.

 Set includes:
- vacuum solar collector (20 vacuum tubes with triple absorption layer ALN/AIN-SS/CU 
- insulated water tank made of stainless steel SUS 304 (in stainless steel housing SUS 201)
- universal steel frame (stainless steel SUS 201)
- silicone protectors

Set may also include:
- spare vacuum tube clamp
- spare vacuum tube gasket
- spare silicone protector

 Characteristics of heater:
Zasobnik na wodę:

capacity 167 liters, stainless steel SUS 304

Pojemność urządzenia:

capacity 219 liters

Ilość rur próżniowych:

20 pcs.

Rozmiar rur próżniowych:

58mm / 1800mm

Zastosowanie Heat-Pipe:

NO

Rodzaj absorbera:

3-layer CU/SS-ALN(H)/SS-ALN(L)ALN

Stelaż / obudowa zbiornika

:
stainless steel SUS 201

Izolacja termiczna zasobnika

:
high density polyurethane foam, min. 50mm

Wymiennik ciepła:

-

Odporność na grad:

Φ25 mm

Wydajność:

increases the water temperature by 45-60°C on a sunny day

 How the non-pressure water heater works and its design
-> Design and principle of operation of the water heater from PROECO Solaris-L and YL series <-

 Instructions and technical data:

SOLARIS L Manual


Dimensions and weight of heaters.pdf

Declaration of Conformity (CE)

 It is recommended also to purchase:
-> Assistant tank for automatic topping up of water in the tank<

-> Controller with solenoid valve and water level and temperature sensor<-

-> Vacuum tube 58/1800mm (ALN/AIN-SS/CU)<-

© The content of this manual, both in whole and in part, is protected by law. Any use of content or illustrations requires the consent of Pro Eco Solutions Ltd. In particular, this applies to copying, translating, and storing in an electronic form.
Customers who bought this product also bought: